Welcome to the Official Site for Giulia, Giuseppe, and Matteo Cicciari. You may recognize them from their projects for big name companies including Disney, FAO Schwarz, Play-Doh, Toys R Us and more! Here you will find all the news and up to date information about these talented young siblings. For Industry Professionals looking to learn more about Giulia, Giuseppe, and Matteo, please click on their names above for an overview of information.


NEWS & UPDATES
29 Dec 2014
Happy Birthday!
What a big day it is for Giulia! She's up and full of excitement, ready to see what the day will bring as she celebrates her
10th
birthday!
Happy Birthday Giulia
! I hope your day today is full of fun as your family and friends come together to help you celebrate. Entering the world of double digits is pretty awesome, and enjoy all of the traditions that help make you day even more
special
. I hope your day today is everything you hoped it would be and one of the best birthday's ever!
Happy Birthday
!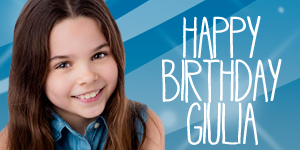 Posted by: Lisa
25 Dec 2014
Happy Holidays!
The holiday season is always such an exciting time of year! Songs, decorations, treats, presents, and of course the
best
part is all the time with family. Giulia, Giuseppe, and Matteo have been having a wonderful time celebrating the season and would like to wish everyone a
Happy Holidays
! May all of you have a 2015 full of happiness and joy.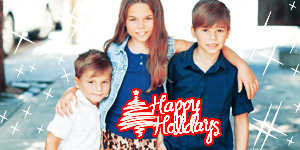 Posted by: Lisa
05 Nov 2014
Disney Vacation Club
Last year Giulia, Giuseppe, and Matteo all got to go down to Florida to work for the Disney Vacation Club! They had an amazing couple of days enjoying one of the resorts, playing in the water park, and experiencing the perks guests get to enjoy while staying there all while being filmed! The footage was used in a promotional spot for the resort, images made it into their brochures as well, and a second video has surfaced featuring the kids! Make sure to watch it below, and this was definitely one of the best jobs ever!


Posted by: Lisa
31 Oct 2014
Party City
Party City
has been one of the best places to shop this Halloween. So many decorations, costumes and anything you can imagine available for purchase, including lots of different ideas for children while they go out trick or treating. One of the
best
parts is that Giuseppe has had his images from last year used again, being seen in their catalog as a
Swat Cop
as well as
Woody
from
Toy Story
! He could be found on the costume wall in many stores across the country and his images continue to be featured on the costumes product packaging too! It is so
exciting
seeing his images surface again, and the shoot image for him dressed up as Woody has just been added to the gallery.
Happy Halloween
!
Posted by: Lisa
08 Oct 2014
Alex Kruk
It is always an exciting time when
Alex Kruk
comes to town! Bringing her creativity and excellent camera skills with her, she does some of the
best
photoshoots and Giulia, Giuseppe and Matteo love getting to be three of the kids she photographs during the visit. Their latest photoshoot with her was done this past summer and the photos came out
fabulously
!
Giulia totally rocked her look, using headband accessories to complete the style she was going for, and check out those leopard print capris! Giuseppe's images have a nice pop to them with his dark blue shirt he's wearing and he was full of smiles for the camera while Matteo was showing off his serious side too and looks like he's ready to take on a big high end ad campaign! When all of their individual shots were done, there was some time left to do some siblings shots and Alex captured a
wonderful
photo of all three of them together. Make sure to view the new images in the gallery and
thank-you
Alex for such a fun time!


Posted by: Lisa
30 Sep 2014
Alex Kruk
Giulia, Giuseppe, and Matteo love shooting with
Alex Kruk
. They did their first shoot with her last year and she has quickly become one of their
favorite
people to do headshots with. She always has some of the best locations picked out when visiting the east coast, and earlier this year they got to be a part of Alex's in-studio mini sessions. All three of the kids got new photos, making use of both the white backdrop and the brick walls within the studio for their pictures. The images came out
fabulously
, and Alex is always so great at capturing their personalities. Matteo sure has grown up within even the last couple of months, and Giulia and Giuseppe totally rocked the looks they were going for with their wardrobe choices.
Thank-you
Alex for another
fantastic
photoshoot!



Posted by: Lisa
18 Sep 2014
Happy Birthday!
It's a busy week in the Cicciari household, one that's been full of excitement and
celebration
, and the fun continued this morning when Matteo woke up full of energy and ready to enjoy his birthday!
Happy Birthday Matteo
! I hope you have an
amazing
time today as everyone comes together to make your
special
day one to remember. Cake and presents are always a fun highlight as are all of the traditions your family has to make your birthday your favorite day of the year. I hope today is everything you hoped it would be and more, and being five is going to be awesome!
Happy Birthday
!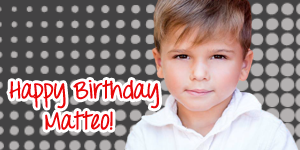 Posted by: Lisa
14 Sep 2014
Happy Birthday!
It's a big day for Giuseppe today! He's enjoying the day off of school and taking in all of the fun and excitement he can as everyone comes together to
celebrate
his birthday!
Happy Birthday Giuseppe
! I hope you have a
fantastic
time with family and friends as you take part in the activities and traditions you enjoy on your
special day
. Being eight will be so much fun, and make sure to make a
big
wish when you blow out the candles on your cake, I hope it comes true!
Happy Birthday
!
Posted by: Lisa
<< Previous 1 2 3 4 5 6 7 Next >>