Welcome to the Official Site for Giulia, Giuseppe, and Matteo Cicciari. You may recognize them from their projects for big name companies including Disney, FAO Schwarz, Play-Doh, Toys R Us and more! Here you will find all the news and up to date information about these talented young siblings. For Industry Professionals looking to learn more about Giulia, Giuseppe, and Matteo, please click on their names above for an overview of information.


NEWS & UPDATES
29 Dec 2016
Happy Birthday!
One of the best days of the year for Giulia falls right between Christmas and New Years, it is a fun way to end off the year and she is so excited that that day has finally arrived. Giulia is saying goodbye to being eleven years old and ready to see what being
twelve
brings.
Happy Birthday Giulia
! I hope you have an
amazing
day today with your friends and family, lots of fun new memories are in store for you in the year ahead and it all begins with today and the celebration of your
special day
. Enjoy every moment and I hope this is one of the best birthdays ever!
Happy Birthday
!
Posted by: Lisa
25 Dec 2016
Merry Christmas!
The holiday season is such an exciting time of year, and Giulia, Giuseppe, and Matteo are thrilled that
Christmas Day
has arrived. They love spending the holiday together with their family as they have holiday treats, open presents, and make exciting new memories together. The kids would like to wish everyone celebrating a
Merry Christmas
and may everyone have a wonderful holiday season full of love, laughter, and joy!
Posted by: Lisa
24 Sep 2016
New York Fashion Week
Giulia and Matteo had an amazing time at
New York Fashion Week
earlier this month! They both walked the runway for
Fun&Fun
and Matteo even helped kick off the show. He was so excited to take part with his sister and friends, while Giulia loved walking in front of the crowd of people as they took photos and video. Footage can be found in the
media section
for both of their parts of the show, and the gallery has been updated with lots of pictures from both backstage and out on the runway.
Thank-you
to everyone involved for such a great fashion show!
Posted by: Lisa
21 Sep 2016
Photoshoots & New Layouts
Giulia, Giuseppe and Matteo's website has a brand new look! They have been very busy with photoshoots this year taking new headshots, doing some fun shoots with some of their favorite photographers, and the site has just gotten a makeover with new layouts for both the main site and the gallery. A
thank-you
goes out to Sarah of
Serberry Designs
for the new look!
From a workshop with
Mila Wells
,
Susan Anderson
, and
Jillian McDermott
to a photoshoot session with
David Hartz
there are a lot of new images including some fun sibling shots. Giuseppe and Matteo rocked their workshop shoot and Giulia loved her white dress and using the birdcage as a prop. She also did two new photoshoots with
Jennifer Lugo
while Giuseppe shot with
Stacy Gallizzi
. Make sure to head to the gallery to see all of the new photos and
thank-you
to all of the photographers they have worked with this year so far for the
fantastic
images!
Posted by: Lisa
18 Sep 2016
Happy Birthday!
Matteo is a ball of energy this morning! He woke up happy that September 18th had finally arrived, and is now
excited
to see all that this day will bring for his first official day as a seven year old.
Happy Birthday Matteo
! I hope your big day is all kinds of awesome with your family, friends, and all the special activities and traditions that you get to enjoy. Cake and presents are always one of the
best
parts and I hope today brings a whole lot of fun for you.
Happy Birthday
!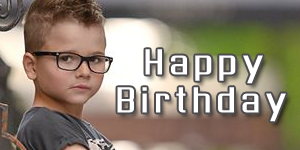 Posted by: Lisa
14 Sep 2016
Happy Birthday!
For Giuseppe, the best part of September has finally arrived and he is all ready to celebrate turning another year older, enter the world of double digits and see what being
ten years old
is all about.
Happy Birthday Giuseppe
! I hope you have a
fantastic
day with your friends, family, and that today is full of fun from morning to night as everyone celebrates your big day with you. It is a really cool and exciting feeling to reach the transition to double digits and I hope that this year ahead of being ten is all that you hoped it would be and more,
Happy Birthday
!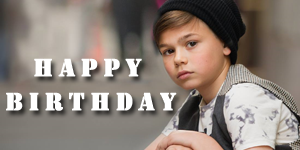 Posted by: Lisa
08 Jun 2016
Kumon
Once a shoot wraps you don't always know when or where the images will surface, and once some time passes it seems like you won't ever see that job. Well Giulia got a big surprise the other week when her photo was seen in a
Facebook ad
for
Kumon
! She was four years old when she did the shoot and when 2010 finished, 2011....and still no sighting who would have thought that all the way in 2016 we'd see the photo finally surface. It is a great shot of her and her pretend Mom promoting franchises in the NYC area, and a capture of the ad can now be found in the gallery!
Posted by: Lisa
12 May 2016
EpiPen
Medicine has come a long way over the decades and when one has an allergic reaction, thank goodness they have an
EpiPen
to use. While everyone hopes to not ever have to use it, when you do, there are specifics that need to be followed, and they have recently put together a new
video
showcasing how to use it. Matteo can be seen in the video with his pretend Mom showing how to use the kid's version and helping her give the important information to those watching. They provide the steps, define that the yellow cap is for adults, green cap for children, and give safety guidelines so that you don't compromise yourself or the medicine dosage itself. This is an important video that you all are encouraged to view in the
media section
as you never know when someone may need your help while having an allergic reaction.
Posted by: Lisa
<< Previous 1 2 3 4 5 6 Next >>